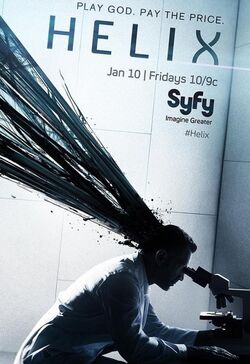 The first season of Helix ran from January 10th to March 28th, 2014, on Syfy in the US, and on Showcase in Canada.
The season follows a team of scientists from the Centers for Disease Control who travel to an Arctic research facility in order to investigate and contain a potential virus outbreak. They eventually find themselves in a dire situation that could determine the fate of mankind.
The events of this season, as of Season Two, take place over the course of 13 days.
Season Overview
[
]
To be Added
Cast
[
]
Main Cast

[

]




Recurring Cast

[

]
Episodes
[
]
See also: Episode Guide
No.
Image
Title
Airdate
1
"Pilot"
January 10, 2014
Day 1: Dr. Alan Farragut and his team of CDC scientists are called to a remote Arctic Research Base where his brother has been infected with a deadly and unknown virus. Soon Alan and his team have to realize that there are secrets being kept.
2
"Vector"
January 10, 2014
Day 2: The CDC team tries to find a treatment for the infected patients and contain the virus by hunting down the ones who were exposed to the virus. Meanwhile, panic rises amongst the people on the station.
3
"274"
January 17, 2014
Day 3: Peter seeks Alan's help before he collapses. Sarah finds a rapid response test for infected patients. Julia slowly begins to feel the effects of Peter's attack. Balleseros helps Doreen get another monkey sample.
4
"Single Strand"
January 24, 2014
Day 4: The people on Level R force Dr. Hatake to re-establish communication by cutting off the air supply. Meanwhile, Peter's condition worsens quickly, forcing Alan to try the untested universal treatment.
5
"The White Room"
January 31, 2014
Day 5: Alan tries to find out what happened to Doreen after discovering her body. Julia finds some support on Level R. Sarah keeps hiding an infected patient in her room. Balleseros tries to find the mysterious Dr. Hvit.
6
"Aniqatiga"
February 7, 2014
Day 6: Alan and Sarah's work on decoding the virus shows progress. Meanwhile, Hatake begins to cure Julia.
7
"Survivor Zero"
February 14, 2014
Day 7: Constance Sutton of Ilaria Corporation arrives with mercenaries. Daniel makes a discovery that he may be a part of. Julia also learns something about herself as Hatake tries to protect her from the mercenaries.
8
"Bloodline"
February 21, 2014
Day 8: A vector breaks into the food storage area and contaminates the base's food supply. Constance tells Hatake that she has learned Julia's secret. Julia escapes into the base's ventilation ducts and Constance sends Ilaria security guards after her.
9
"Level X"
February 28, 2014
Day 9: Secrets come to the light and unlikely alliances are established. At the same time, Alan and Julia take on a dangerous mission to destroy the remnants of the NARVIK virus. Julia makes a shocking discovery regarding her past.
10
"Fushigi"
March 7, 2014
Day 10: Alan and Julia travel to an abandoned satellite station in a last-ditch effort to call for help. Once there, they come across the truth behind Hatake's plan and Julia's condition. Meanwhile, Sarah discovers what could be a cure for cancer.
11
"Black Rain"
March 14, 2014
Day 11: Peter and the Vectors attempt to spread the virus in a desperate final attempt. Meanwhile, the scientists of the CDC create a cure for the virus by working together, just as a threat from deadly mercenaries of the Ilaria Corporation threaten their very lives.
12
"The Reaping"
March 21, 2014
Day 12: The Scythe is revealed to be the immortal Spencer Chiswick, son of the late Constance. Alan and Hatake lure him and one of his agents outside where they plan to lay a trap. Spencer learns Julia is Hatake's daughter and abducts her.
13
"Dans L'ombre"
March 28, 2014
Day 13: Balleseros agrees to hand over the virus, already reported in Puerto Rico, if Hatake turns over the list of displaced Inuit children. Peter is revealed to be working for Ilaria and frees Spencer, who then attempts to steal both the virus and cure, as well as Julia.
Gallery
[
]
Videos
[
]
External Links
[
]